---
PSR Wrexham Solicitors branch is headed by senior personal injury solicitor Bronwen Lloyd-Roberts and senior conveyancing solicitor Karl Lewis, and is located in Lord Street next to the bus station in the town of Wrexham. Wrexham has rail links and municipal parking nearby.
PSR Solicitors in Wrexham is fully compliant with Disability Legislation having wheelchair access and an open plan interview room which can be used for any client unable to safely walk up and down the stairs to the first floor. It is also possible for us to visit people in their own homes or in hospital if they require and in straightforward accident claim cases initial instructions can even be taken over the telephone. We like to ensure that we accommodate all members of the public who need our help in pursuing a compensation claim for a personal injury following an accident.
Lexcel - Law Society Accreditation
PSR Solicitors in Wrexham have now been accredited by the Law Society under their Lexcel standard. This is a mark of excellence designed to distinguish between different law firms and shows that a firm has met the Law Society's high standards. Lexcel firms such as PSR Solicitors in Wrexham offer:
* Excellent client service to all Wrexham personal injury & conveyancing clients
* Cost efficiency on a No Win No Fee basis
* Minimum risks for all of our Wrexham clients
Firms are examined thoroughly before being awarded the Lexcel standard and we are very proud that our firm of personal injury solicitors has been recognised as offering the best of service to our clients. As we continue to grow, this recognition should ensure that our commitment to our clients' remains and we continue to provide excellent customer service.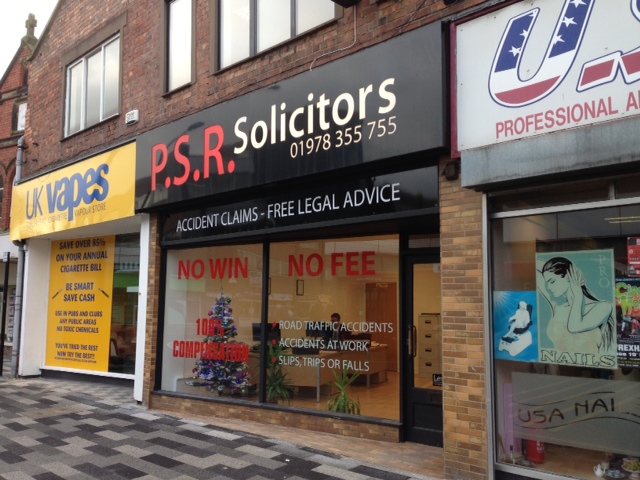 PSR Solicitors In Wrexham

St. Davids Villa
8 Lord Street
Wrexham
LL11 1LG
Telephone: 01978 355 755